Breakfast is great at Glady's Cafe
By linde
Dec 2, 2004, 12:48

---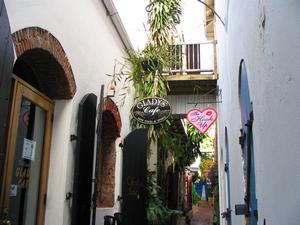 One Passage in The Royal Dane Mall
Click here to enlarge.
During our last trip through St. Thomas, we found a great place for breakfast and lunch. Glady's Café is located in Charlotte Amalie in the Royal Dane Mall West. The Royal Dane Mall is a narrow alley with lots of local appeal, which is located in the middle of the best shopping on St. Thomas. As the taxi dispatcher on the dock hastened to point out to us, Glady's Café is recommended by the New York Times as a good place to visit.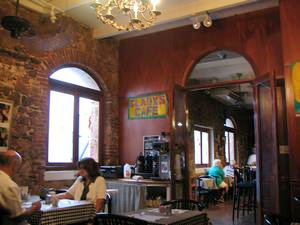 Inside Glady's Café
Click here to enlarge.
The interior is cozy, with walls of old brick and stone, and fans keep it comfortably cool. The tables are adorned with plaid tablecloths and vases filled with native tropical blossoms. There is also a bar, and a smoking section. We enjoyed a delicious breakfast, chosen from a variety of eggs, omelets, bagels, and breakfast sandwiches offered on the menu. The service was helpful and very friendly.
On your way out, you can even buy a jar of Gladys's famous homemade hot sauce to take home as a memento of this place. We will definitely stop in again.
If you decide to go, make sure you remember that they are closed on Sundays.