Montserrat's Volcano
By ham
Mar 7, 2004, 10:47

---
While we never actually visited this island, Montserrat did visit us in a very surprising way.
We were staying on St. Croix for our daughter's wedding on July 29, 2001. In spite of a tropical wave that passed through on the wedding day, it was a near perfect occasion.
We were scheduled to leave the next day. When we got up in the morning, we noticed that our rental car looked like it had mud splashed all over it. On closer inspection, the coating was a very fine gray powder, and it was not only on the car, it was everywhere.
We checked the news, and discovered that the volcano on Montserrat had erupted, and the prevailing winds had carried the ash directly over us and on to Puerto Rico and points north. An interesting event we thought.
It turned out to be a bit more than just interesting when we arrived at the airport. We then discovered that all jet powered flights in the Caribbean were grounded until further notice. The fine powder we saw was actually fine particles of stone or pumice from the volcano. Jet engines that ingest these particles are seriously damaged. The planes were grounded until the particles dissipated.
While it was unclear when the planes would be flying again, it was expected to be in the next day or two, barring another eruption. We had already turned in our rental car, and moved out of the house we had rented for our stay, so we accepted the airline's taxi fare and accommodation at the Caravelle Hotel in Christiansted. While the hotel was in the process of being remodeled, we were only able to get one of the older rooms, which while clean, was rather shopworn. It was, however, right in the downtown area and very convenient to the shopping that we enjoyed.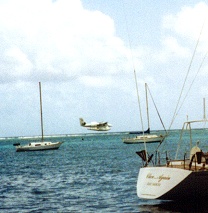 The Honeymooners Are Airborne
In the meantime, the newlyweds were also finding that they were not able to get the flight to their honeymoon destination of Grenada. Once they realized what was happening, they invited all the off island wedding guests, who were stranded, to come to their home while we all figured out our next step.
While jet powered planes were grounded, those with reciprocating engines were not. In true island spirit, the honeymooners took a small seaplane to St. Thomas. From there they set out on a tour of the British Virgin Islands by boat, stopping when the mood struck and staying in places that they fancied. They had their honeymoon after all.
We got a flight three days later, back to the New England. We enjoyed our shopping, and a few get-togethers with the others of our group who were also without flights.
All things considered, it was not so bad being stranded on a tropical island, and we have Montserrat's visit to us to thank for the experience.