Lunch at Shipwreck Landing
By lm
Mar 12, 2004, 15:50

---
When we visit the island of St. John, we always save some time to drive out to Coral Bay to enjoy the beautiful scenery on this end of the island, and to experience the local flavor by having lunch at Shipwreck Landing. This place offers a fine selection of fresh fish, steaks and pastas. They are open for both lunch and dinner. The frozen drinks are most likely the best on the island, as well as the most imaginative. On our visits there we find it very difficult to have just one of these.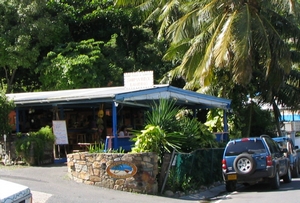 Shipwreck Landing
Click here to enlarge.
On our last trip in November 2003, we enjoyed the special, a drink called "Strawberry Shortcake" - a yummy combination of strawberries and Bailey's Irish Cream. Two of those went down very smoothly - and very quickly! For lunch I enjoyed a sandwich filled with fresh salmon, seaweed salad and black olive, with lettuce, onion and tomato on the side to add if I so wished. I chose French fries to accompany my sandwich, but pasta salad was also an option. A very pleasant lunch on a lazy afternoon in paradise!
Afterward, a peek through the quaint shops adjacent to the restaurant was a must. These shops feature unique items of clothing and gifts, many crafted locally. Maybe during our next visit to the island in a couple of months, dinner there will be on our agenda!