A Long Weekend on St. Croix - Day One
By Sigi
May 29, 2004, 20:00

---
DAY ONE
We arose to beautiful sunshine on the first full day of our visit, and since our daughter could not get Friday off from work, she dropped us off in Christiansted first thing in the morning and continued on her way to work. Christiansted is a beautiful old Danish port featuring the distinctive architecture, virtually unchanged from 200 years ago. It's always a treat to be able to spend time in this gracious town. With the whole day at our disposal in this quaint place, we decided that breakfast should be first on our list.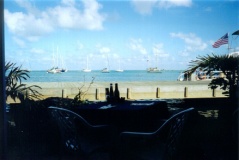 Morning View of Christiansted Harbor
from Rum Runners
Click here to enlarge.

One must have energy before attempting a full day of shopping and exploring in the tropics, after all! Where to go??? On a previous visit, we had stopped for a quick meal at Rum Runners at the Caravelle Hotel, a small, informal spot right on the wharf. So we decided to try it for breakfast this time. We both ordered an American style breakfast, which was served promptly. Since it was a beautiful, sunny day, we enjoyed the splendid view of Christiansted harbor while we ate.

Once the bill had been paid, we started on our exploration of the nifty, small shops, which line the quaint streets of this town. The first stop was a place called "Up Island". We had a pleasant conversation with the storekeeper, who had moved there from the states some time ago. This store features women's tropical sportswear - lots of cotton shorts, tops, and dresses, all in beautiful patterns made from natural fabrics. I managed to fall for one of the tank tops, and made our first purchase of the day.

Next was a stop at Crucian Gold to have the bracelet I purchase there last year adjusted. Crucian Gold sells beautiful gold and silver jewelry made on the island by Crucians, born and raised there. The shop is well known for the "Crucian Bracelet", which features a knot-button-latch. I purchased my first Crucian Bracelet three years ago, when we were visiting the island for our daughter's wedding. A nice tradition at this shop is that you can return at a later date to have your bracelet polished to look like new, or you can trade your bracelet to the next wider gold band at a small cost. My present bracelet is two trades up from the original, and I'm planning the third trade for our next trip! We chatted a bit with Brian Bishop, the owner during this visit, and during the conversation, he mentioned that a bad hurricane season is forecasted for this year. Hopefully, the forecasters will be wrong.

Then, it was onto the next shop, which was called "Hotheads", where some sandals and a tee-shirt for our grandson caught my eye. Even better, both were on sale! This shop is great for all things children. What a fun day we were having, and it wasn't even noontime.

Around the corner we came to the "Royal Poinciana", where I just knew that we could find mango chutney promised to a friend back home. Indeed, we did find the chutney, but had a great time looking at the great books, especially the local cookbooks, gifts, children's items, special body lotions and creams, everything that this shop has to offer. We make sure to stop in here during every trip.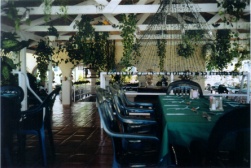 Tivoli Gardens on Saint Croix
Click here to enlarge.

Well, by now all this shopping worked up an appetite, so we decided to have lunch at Tivoli Gardens. We have stopped here during previous visits, and looked forward to coming again to enjoy the unique and delicious food prepared at this lovely open-air restaurant, which overlooks Christiansted harbor. My husband enjoyed his open turkey and chicken liver sandwich, and I thoroughly enjoyed the Lobster Briesque - a delightful open sandwich topped with a zesty cheese sauce. Each of the sandwiches was served with three very delicately sliced salads of red cabbage, green cabbage and carrot. A pitcher of iced tea topped it off. It was perfect, just as the day had been so far.

After a little rest, it was off to the shops again. We stopped at "Tesoro", which has all kinds of metal, unpainted and painted, adornments for your home. They also have a nice line of wooden items. All these are handcrafted on nearby islands. We have bought several items from this store in the past, but this time it was a palm tree cookie cutter - a must for those of us in the northeast, who want to be cute when baking holiday cookies!

Next was a visit to "Gone Tropical". This store is so interesting and exotic - the items are collected by the owner from around the world - places like Bali... It's worth making at least two passes at this store, since it is so full of wonderful things to see. You wouldn't want to miss anything. We decided that we just had to have a very unique wooden serving dish for our collection back home.

Around the corner from this shop is a new Archeology Museum on the island. This is a place where you can see artifacts, which have been found on the island, and read about the island's history.

Right next door, is Mia Tierre", a shop that sells all things Mexican. We made no purchases here since the items we were attracted to would have been too much to carry, in addition to what we had already bought elsewhere. The same is true for "Small Wonder", another great shop for children's items, both clothing and toys.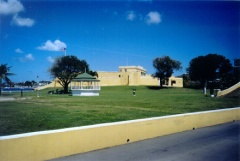 Fort Christiansvaern seen from The Old Scale House
Click here to enlarge.

At this point, since it was such a beautiful day, we decided that we shouldn't miss the chance to take a picture of Fort Christiansvaern, which is located in town, near the harbor. This imposing yellow structure was built in 1734 and features a number of dungeons, battlements and kitchens. It's very picturesque on a clear sunny day such as today. The National Park store was nearby, so we stopped in for some maps, and had a nice conversation with the storekeeper.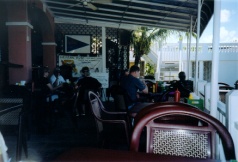 Fort Christian Brew Pub
Click here to enlarge.

By now, it was late afternoon, and time for a tropical drink. Our shopping day will soon come to an end. We headed for the Fort Christian Brew Pub, the place we had our quick dinner last evening. The atmosphere at the pub was much more quiet and relaxing at this time of the afternoon. This time we decided on some Bailey's Banana Coladas, our favorite drink when we are in the tropics. They were just yummy. While we were relaxing there, our daughter gave us a call (what would we ever do without a cell phone?). We would have another drink and wait for her to pick us up at the Pub.

Once she arrived, we headed west on the boardwalk to visit some of her friends. On the way, we became part of the boardwalk scenery as seen from the gotostcroix.com webcam. This is the authoritative website on St. Croix, and is run by Wendy Solomon, one of our daughters friends.

We continued on to "From the Gecko" to say hi to our daughter's friend, and business owner, Danna. This is a great boutique, which has a great line of island clothing, both sporty and dressy. This is one of our daughter's favorite places when she needs something special to wear.

Then it was on to "Jewelweed", a place where you can buy very distinctive, one-of-a-kind handmade jewelry. My daughter is friends with the owner, Anita Shultz , and it's always fun to stop in and say hello, and also take a look at all the beautiful pieces she has in her shop. If you ever visit St. Croix, you must stop here. This time my husband bought me a beautiful set of earrings, which I just love wearing.

Since it was getting close to dinnertime, we decided to go back to our daughter's house to freshen up, and set out to our dinner adventure. We went to a place called "H2O", a new Caribbean bistro at the Hibiscus Beach Hotel. It was Friday night, and we didn't have reservations, but, after a short wait, we were seated. The service was excellent, and the meal sumptuous, all at a reasonable price. A perfect end to a perfect day.

Continued in DAY TWO.