A Long Weekend on St Croix - Arrival Day
By Sigi
May 27, 2004, 16:38

---
Arrival Day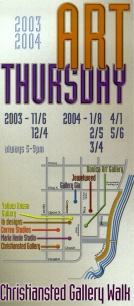 Click here to enlarge.

At the beginning of last month, my husband and I took a long weekend to visit our daughter, who lives on St. Croix. We have been to the island before, but this was the first time we stayed with our daughter at her house, rather than at a villa or hotel. Since we decided not to rent a car for this short stay, we had to rely on our daughter for transportation. It was late Thursday afternoon by the time we arrived at our daughter's home, so we decided to settle in our belongings, freshen up and head out for an informal bite of dinner. We headed for the Fort Christian Brew Pub for a sandwich and a drink. Local Beer is brew here, and they offer a wonderful selection of tropical drinks. A sandwich and some iced tea was just perfect, except that we found the music a little loud for conversation with our daughter, who we had not seen for several months.

As it turned out, it was a special evening in Christiansted, since the wonderful art galleries, which dot the streets of this city, were open late for a special art show, called "Art Thursdays". On selected Thursdays during the year, art galleries, retail shops and restaurants in Christiansted stay open late for a series of gallery walks. The local restaurants also offer specials to gallery goers! We didn't start quite early enough to visit many of the galleries before closing time, but we did manage to stop in at the "Correa Studios", a gallery featuring beautiful etchings created by artist Jimena Correa. Jimena is originally from Brazil, and has recently moved her studio from San Fransisco to St. Croix. We also made a stop at "Jewelweed", a jewelry shop owned by a good friend of our daughter's. We decided to make a point of returning to Jewelweed tomorrow for a closer look at the unique, handmade pieces in this shop. Maybe I can choose something special to bring back home with me then!

Continued in DAY ONE.