A Long Weekend on St. Croix - Day Three
By Sigi
Jun 15, 2004, 16:22

---
DAY THREE
Another day of bright sunshine! St. Croix was certainly showing us her very best during our short stay. Sunday was our last full day on the island for this visit. Since Sunday is traditionally "brunch day", after a relaxing start, we decided to look around for a good place for brunch. Blue Moon, right on the water in Frederiksted, was our first choice, having been there during previous visits, and having enjoyed the food and the atmosphere. But alas, our call for reservations was too late for this Sunday. Maybe a plan for our next visit!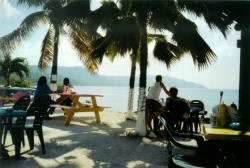 Off The Wall
a perfect spot for Sunday brunch
Click here to enlarge.

But then a very good second choice came to mind. The Off The Wall Beach Bar and Restaurant on Cane Bay is not only great for drinks, lunch and dinner, but also super for breakfast. So off we went to the west end of the island once again to this place on the beach with the great view. They specialize in great Eggs Benedict with many exciting variations, and that's what we decided to have for our Sunday brunch. What a good choice.

Since we were planning to attend a Pig Roast at Mount Victory Camp in the afternoon, we decided, at this point, to head back to our daughter's home to spend some more relaxing quality time with her before our departure for home the next day. But before we knew it, it was time to leave for the drive to Mount Victory. Time certainly flies when you're having fun!

Mount Victory Camp is located in the rain forest of St. Croix west end. We would once again have the opportunity to ride along the coast of the island and enjoy the beautiful view of the green hills, sandy beaches and clear, blue water. Before we actually go to the camp, we planned to visit an acquaintance of our daughter, who had recently bought a new house in the area. A tour of the new house was an offer we could not resist. Houses on the island are so very different from those in the northeast United States. They are so exotic by our standards, and open to nature? it is wonderful.

After our tour of this lovely home, we were off to Mount Victory Camp and the Pig Roast, which was actually within walking distance of the house. Mount Victory Camp is a true Caribbean adventure. This is a small farm consisting of herb gardens, tropical fruit trees, historic ruins and lots of land tortoises. Guests stay in handcrafted bungalows made from local hardwoods, where you can "enjoy the sounds of tree frogs singing you to sleep, hear and feel the tropical breeze passing through your tent and gaze at the stars". This is a very peaceful and relaxing place located five minutes from the beach in the cool hills of the rainforest. And there are all sorts of outdoor activities to enjoy. I would imagine that if you wanted a simple, peaceful, and totally natural experience of the island, this would be the place to stay.

The Camp Pavilion is a place where you can relax and meet people, have something to eat, or have a tropical drink. On this Sunday afternoon, the Pavilion is the place where the pig would be roasted for a half day, and flavored with locally grown herbs. We were looking forward to experiencing this local tradition. We definitely were not disappointed with the delicious food, or the good company of those who were there, as we were, to get a little closer to nature.

Once we said our goodbyes at Mount Victory Camp, it was time to return to our daughter's home to pack for our trip home the next morning, and spend the time remaining for this visit with our daughter.

All in all, we managed to experience a great deal during this short visit, but, as they say, all good things must end. We know it will not be long before we find our way back to this lovely island once again.