A few recommendations for you...
By Kirk P. Mansfield
May 26, 2004, 22:17

---
Words will not even begin to tell you of the experiences I encountered while in Key West for the first time! However, I can take a few minutes to make many recommendations that will help anyone who may be planning a trip to the island.
You must understand that one of my biggest fears I have (next to claymation cartoons) is flying. After many "talks" with friends (and a bottle of tranquilizers) I chose to overcome this fear and take my much-needed vacation. After a long search of airline rates, I chose a direct flight on Jet Blue from Boston to Fort Lauderdale. The customer service was terrific (as well as their in flight service). Upon arrival, I transferred my luggage over to Cape Air (a "puddle-jumper") airlines and flew into Key West within the hour. Unfortunately, I was out of tranquilizers when I realized what a "puddle-jumper" was!
During the day there is a lot to do. I highly recommend starting your vacation with an island tour on the "OLD TOWN TROLLEY TOURS". This very informative and entertaining tour takes you through the history of Key West while showing the gorgeous architecture of the homes. There are 9 stops that allow you to get off and walk around to explore. These trolleys run every half-hour so you can pick up where you left off. The cost is $22.00 and well worth it.

Another adventure was Sea Kayaking. The company that I chose (and was very impressed) was "CRYSTAL SEAS KAYAKING" (1-877-SEAS-877). Our guide, Leo, took us through the many mangrove channels with great patience.... being my first time! Leo had great knowledge of the waters and the sea/plant life. We were able to kayak through the great white heron refuge seeing such creatures as baby sharks, stingrays, and the nesting of heron. It was so incredibly peaceful and relaxing. The cost was $39.00.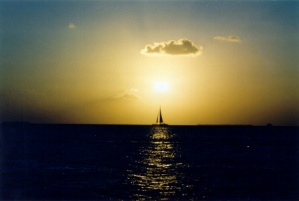 View from Sunset Pier
Click here to enlarge.



Though I have snorkeled before, I thought it may be fun to do again. We choose a company called "SEBAGO" (1-305-294-5687) for a package deal, which consisted of snorkeling (near the largest living reef), and a sunset cruise. The only disappointment to this cruise was the fact that the waters were a little more rough than usual. With this in play, the sea life was scarce. After snorkeling, they serve sodas, beer or champagne while sailing in the warm air towards the setting sun. The experience was breathtaking. The cost was $48.00.

If you are looking for nightlife, just walk Duval Street until you find the bar that suits your needs. There are so many to choose from. If you choose to move on to another bar, they are very happy to give you a plastic cup for your cocktail. You will discover that the bartenders/servers are mostly made up of those who came down to vacation and never left!

As far as restaurants are concerned, there are so many to choose from. On Duval Street (the main street) we discovered La Trattoria. The food (as well as the service) was impeccable and reasonable priced ($13.00-$20.00). My highest recommendation is the Sunset Pier located next to Mallory Square. Around 6:00 pm, many venders surround this pier with paintings, live shows, photography and souvenirs of the island. When you are finished walking around, cruise over to the Sunset Pier and have dinner (while a live band plays island music) on the many colorful tables and chairs that have direct view of the sailboats and ships that pass in front of the sunset! It is beyond words!

What I enjoyed about this vacation was the fact that everyone was so friendly. I spent so much time meeting people and hearing about their experience on the island!