Another Saturday in Paradise
By jen
Mar 17, 2004, 16:31

---
Every Saturday at 8 A.M. I meet 2 friends at the beach for a puppy play date. Many Saturday's it's hard to get up to be some place by 8..heck, who am I kidding, most Saturday's it's hard to get up that early. But the consistency of my beach date is great for the mind and spirit, so every Saturday I go.
We all usually get there at the same time, dump our stuff at the beginning of the beach, take the 4 dogs for a walk down to the end of the beach and have a brief yoga session. Then we head back to our stuff, relax for a few minutes and then get in the water. My friends and their dogs go for a swim the length of the beach and I, because I have not yet gotten a pair of goggles to swim along in, swim out a bit and toss rocks to my dog Jumbie who will normally swim circles around me while we are playing.
Today, we got back to our things and sat down for 2 minutes before I saw a dolphin crest not even 50 yards away. My friends dashed into the water with their goggles. I watched from waist deep as the dolphin twisted and turned all around them, then swam away and came back for more. I decided it was time to get in and play too. The water was cloudy so I caught only it's tail as it swam off.
It was getting towards 9 and my friends had to head to work. I normally leave at the same time to start my day. As we were packing up, the dolphin came right up to the shore, so close in fact that Jumbie spotted it and went in in pursuit. I thought Jumbie would scare the dolphin off, but instead, the dolphin swam underneath her and next to her for a short time, probably trying to figure out what the heck this four-legged thing was anyway. Jumbie just kept swimming around looking for it, I couldn't get her out of the water. I think she sensed the energy we all had.
I decided to stay. I spent the next 1/2 hour in the water tracking the dolphin, swimming with it and watching it feed underwater. I felt like I was so close I could have touched it. It would swim right under me through a patch of sea grass, stop and nibble on something and then swim off only to come right back to me. Jumbie was swimming at my side the whole time, thrilled every time the dolphin crested.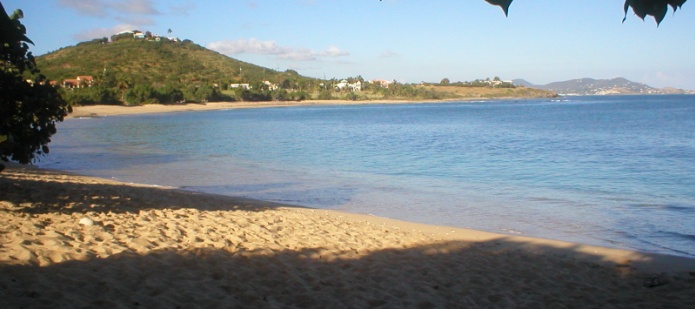 One of the Beautiful St. Croix Beaches
Finally the dolphin must have decided it was time to go. I lost track of it and decided it was time for us to go too, to enjoy another lovely Saturday here in paradise where on any old ordinary day extraordinary things can happen.